There Are NO Excuses for Drunk Driving: GoAuto's Guide to Getting Home Safely
Posted By: Greg T. | Date Posted: Aug 08, 2019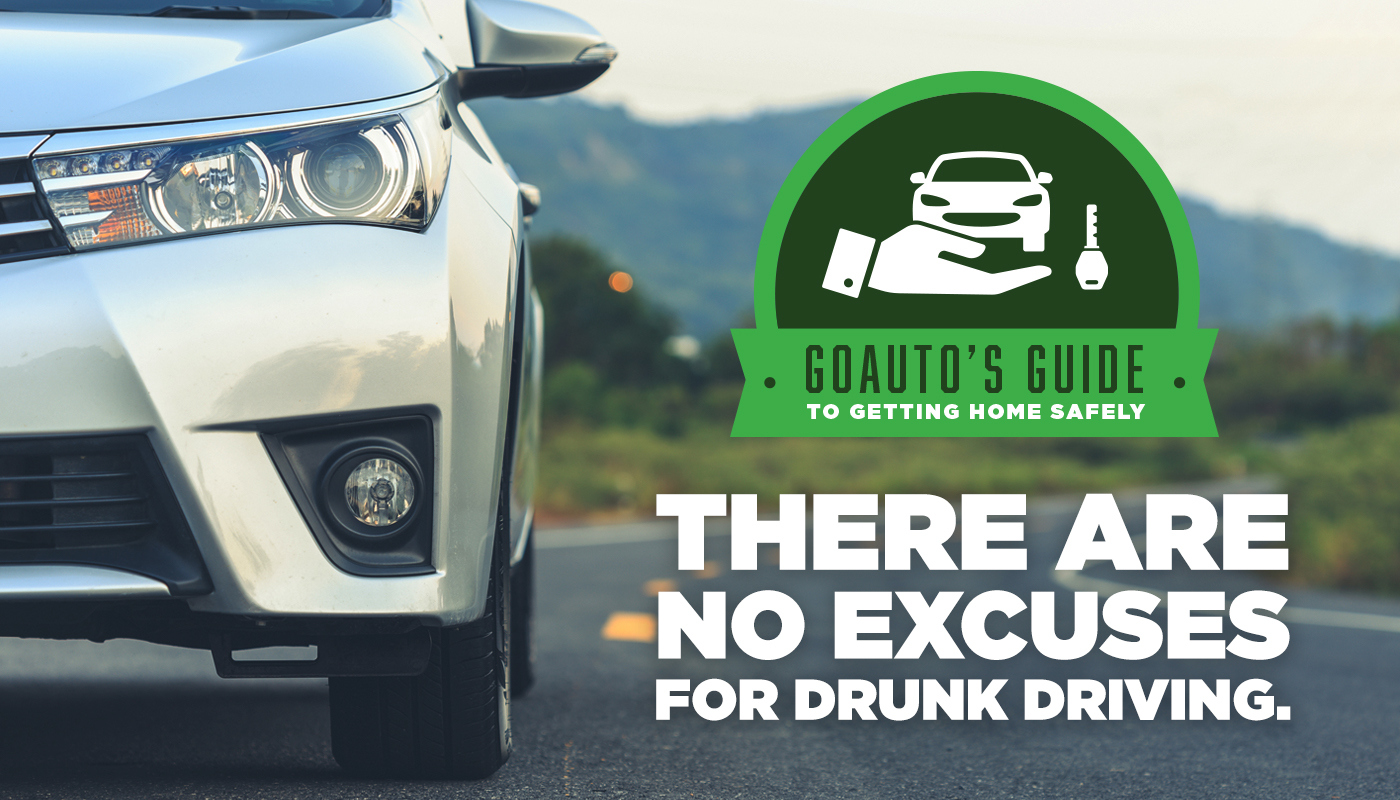 Most people don't think about the impact of drunk driving unless they've been affected by it.
According to the National Highway Traffic Safety Administration, drunk driving is responsible for 30% of all car crashes involving fatalities, and kills approximately 10,000 people every year in the U.S.
These accidents are preventable, as long as people understand they are incapable of driving a vehicle while intoxicated. Motor skills, vision, and your ability to think clearly become compromised when you're under the influence of alcohol.
Keep the roads safe by staying off of them when you've been drinking. It shouldn't be a question of Am I sober enough to drive home? After consuming alcohol, you should immediately be thinking How can I get home safely?
The easiest way to make sure you aren't tempted to drink and drive is to plan ahead to have a safe ride home.
Appoint a Designated Driver
Tried and tested, appointing a DD for your group's night out is the preferred method for getting everyone home safely. As long as someone can be counted on to not drink, or you have someone outside of your party who is able to come pick you up, you can be sure ahead of time that you won't be tempted by the thought of driving drunk and endangering lives.
Even if you find yourself without a DD on a night out, try calling around to friends and family to see if someone can come pick you up. Call your mom, your dad, your brother, your cousin, that Aunt that you haven't talked to since Christmas (you should probably stay in better touch with her if she answers). You're likely to find someone quickly who is willing to take the time to make sure you get home safely.
Utilize Public Transportation
If you live somewhere that you can easily get home with public transportation, doing so will keep you safe and is a cheaper alternative than calling for a ride service. Again, plan ahead of time if you will need to rely on public transportation. You will want to make sure that buses will be running when you need to return home.
In Baton Rouge there are several buses that run throughout the city, but they may not always run late enough in your area. LSU students also have access to the Tiger Trails bus system for transportation in the area surrounding campus.
To find more information about buses near you, check out the following websites.
Capital Area Transit System: https://www.brcats.com/
LSU Tiger Trails: https://www.lsu.edu/parking/transportation/tigertrails.php
Ridesharing
For nights when you find yourself in a bind, technology has now made it easy to get home safely with ridesharing apps like Uber and Lyft. Although this method costs more than public transportation or arranging a DD, the benefits of knowing you'll arrive home safely outweigh the price of an accident you could cause while driving drunk.
Uber: https://www.uber.com/cities/baton-rouge/
Lyft: https://www.lyft.com/rider/cities/baton-rouge-la
Remember to be safe when getting into any vehicle and verify that the car you're entering is licensed with the rideshare program you've requested through the app. Do not enter a vehicle that claims to be part of a ride-share service if you did not request it through the app.
Other Car Services
Although in Louisiana there aren't many car services, there are taxi services you can call if you're stuck on a night out and don't have access to a rideshare app. Here are our top picks:
Yellow Cab: https://www.brtaxi.com/
225-926-6400
Metro Taxi Service: https://metro-taxi-service-llc.business.site/
225-773-5687
There are no excuses for drunk driving. Stay safe when you're planning a night out by having a designated driver, calling a friend when you're in a bind, or calling a car service when you're out of options. The fare for an Uber will always cost less than getting a DUI or causing an accident.
Keep your family and friends safe too by making sure they never drink and drive. Share these tips to remind them that there are no excuses for driving drunk, and remember too you can always volunteer to be a designated driver to make the roads safer.